Don Cristobal Mako (Imp.USA)(dec)
Paso Fino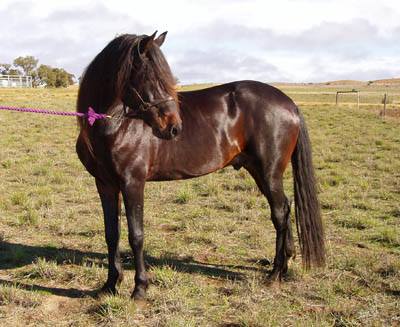 Don Cristobal Mako (Imp.USA)(dec)
Sex: stallion
DOB: 1.5.1988
Sire: Alicante
Dam: La Lupe
History
Cali was imported from USA by Jorge de Moya. He is a son of the legendary Alicante. He was started under saddle in USA by Harry Whitney, but wasn't ridden at all for a number of years. I put him back under saddle in about 2002, and we learned a lot together.
Gaits & Movement
Cali was super smooth with great brio. He was one of my favourite horses to ride at OliVaylle.
Conformation Notes
Outstanding conformation, a classy example of his breed. Outstanding bone, good feet.
Personality
Cali could be a bit aloof and arrogant, but when given a job to do, he was fantastic. He had a lot of brio, and would give 110%.
Genetics
Pure Puerto Rican bloodlines.
Progeny
His offspring have his temperament, brio and plenty of gait. He has been a great sire of both purebred Paso Finos and Paso Creole Horses. He has 32 offpring in Australia, of which 14 are pure Paso Fino and the remainder are Paso Creoles (mostly under the AuSome and NS prefixes).
Available by frozen semen to approved mares in strictly limited quantities. Please enquire.